SPFT COVID-19 Portal
Welcome to the Sussex Partnership COVID-19 Portal.
This is where you will be able to record your lateral flow device test results. Patient-facing staff are encouraged to continue undertaking LFD tests twice weekly and log results on the COVID-19 Staff Portal. Non-patient facing staff are advised to undertake LFD's when symptomatic and when visiting clinical environments on an ad-hoc basis.
To access the portal, you will need to register an account and consent to the national programmes.
For more information and support please select the appropriate tab below.
If you have not registered for an account on the Covid-19 portal. Please do so by clicking "Register" below.
LFD Testing FAQs
See below some answers to our most frequently asked questions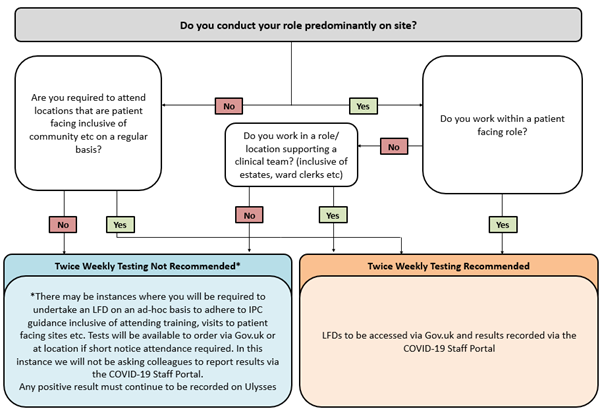 Examples:
1) Administrator working from home with no attendance to site – not recommended
2) HCA working on an inpatient ward – recommended
3) Team Secretary working on site with a community patient facing team – recommended
4) Senior Manager who regularly attends patient facing locations – recommended
5) Project Manager attending corporate buildings on an ad-hoc basis – not recommended
Your test kit uses what's called a lateral flow device (LFD) This enables you to take a swab using a handheld device and to obtain the results in 30 minutes.
When your kit is received please ensure that you read the instructions on how to use as testing process may vary depending on brand.
Tests should to be taken every 3-4 days around your shifts and leave; for example, Wednesday and Sunday, or Monday and Thursday. This should ideally be done at home or in a private place before you enter your workplace.
It is really important you continue to report your results every time you test, whether the result is positive, negative or invalid. As a Trust urge you to take your tests twice a week and report the results to help contribute to the national data and stem the spread of the virus.
You can quickly and easily report your test results through the Trust's reporting tool. You can access the portal from your personal and Trust devices here: https://portal.spft.nhs.uk/Asymptomatic-testing.
If you are a new member of staff who has joined since the lateral flow testing programme started, please register for an account on the portal so that you can report your test results.
Here is a quick guide on how to register for and log in to the portal...
Anyone displaying symptoms should follow the guidance for people with symptoms of a respiratory infection including COVID-19, stay at home avoiding contact with other people and undertake an LFD test immediately.
If the LFD test result is negative, you can attend work if you are clinically well enough to do so and you do not have a high temperature.
If the LFD test result is positive, you must not attend the workplace for 5 days after the day you took your test and undertake an LFD on day 5 and day 6. If both of these are negative then you may return to work on day 6. You should follow guidance set out in our Self-Isolation following a positive result guidance.
If you work with patients whose immune system means that they are at higher risk of serious illness despite vaccination, you should discuss this with your line manager who should undertake a risk assessment.
All patient-facing healthcare staff should resume routine asymptomatic LFD testing when they return to work, taking the first of these tests 48 hours after the LFD test that was taken when they developed symptoms.
If you are still displaying respiratory symptoms when you return to work, you should also speak to their line manager who should undertake a risk assessment.
On returning to work, you must continue to comply rigorously with all relevant infection control precautions and personal protective equipment (PPE) must be worn properly throughout the day.
We know that while regular testing for Covid-19 is reassuring for our work and personal lives it can also feel a little bit daunting, especially if the result is positive. If you do have a positive result, make sure to follow the correct next steps to help keep everyone safe: Lateral flow process
If you are feeling anxious about the testing process you can get support from your line manager, Occupational Health or by or by emailing our Covid-19 Asymptomatic Testing team at Covid-19StaffTesting@spft.nhs.uk. Don't forget, there is also a wellbeing menu that might have just what you need, here.
We have also launched our Staff in Mind service for health and care staff across Sussex to access quick, confidential mental health support.
Vaccine Portal FAQs
See below some answers to our most frequently asked questions
Portal FAQs
See below some answers to our most frequently asked questions
Here is a quick guide on how to register for and log in to the portal...
To register you must meet the following criteria:
Have a valid Sussex Partnership email address
Your email address must be on our approved list of staff
Enter a username without any special characters (e.g. ()'/*#;%&)
Enter a password that is at least 6 characters in length
Please contact COVID-19StaffTesting@spft.nhs.uk for support.